If you are interested in attending a meeting, you are welcome to stop by any time we meet. We meet every Wednesday evenings from 6:30 PM -8:00 PM at the Portola Community Center located at 45480 Portola Avenue, Palm Desert, CA 92260 (entrance is in the rear).
As a visitor, you will be able to see how our meetings are structured to allow everyone a chance to participate and improve their public speaking skills. The speeches at the Club are based on projects assigned to you depending on what you want to get out of Toastmasters as everyone's speaking goals vary.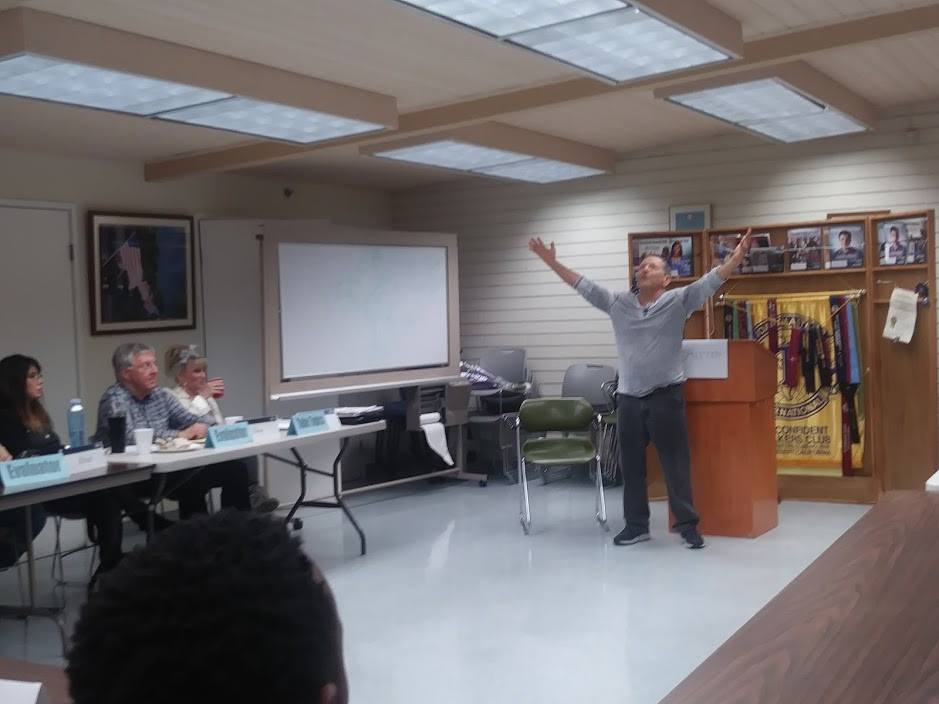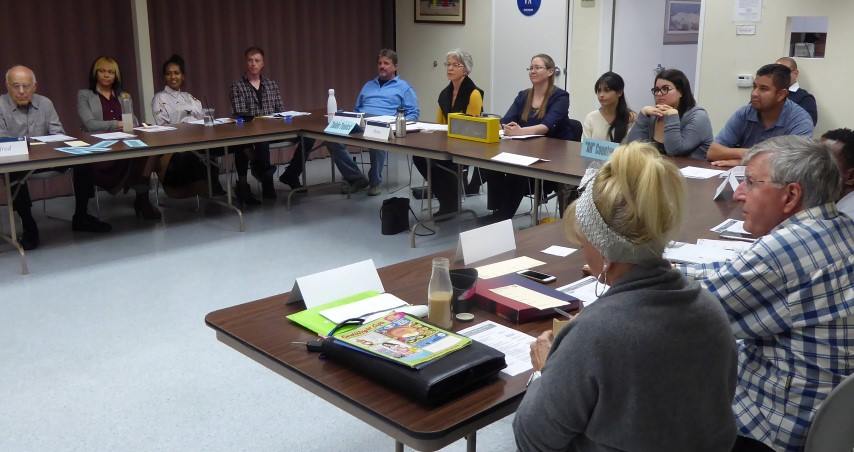 A Toastmaster club is made up of a group of members who perform a variety of roles during a typical meeting. These roles rotate throughout the membership so every member experiences a wide variety of communication and leadership roles. Each 90 minute meeting is structured and timed to insure every member gets to participate and the meeting helps each member to achieve their goals.
These roles include the following:
Toastmaster – the master of ceremonies for the meeting who sets the tone, introduces speakers and other major roles, gives out awards, and keeps the meeting running on time.
Table Topics Master – runs the impromptu speaking session in each meeting where members give a 1 to 2 minute speech without any preparation. This is one of the best ways to learn to handle any communication situation.
General Evaluator – runs the evaluation portion of the meeting where speakers are evaluated, the use of language and grammar is evaluated, and the overall meeting is evaluated. The key to Toastmasters is to receive feedback on what we did well and suggestions for improvement. That's how we grow as individuals and insure our meetings are beneficial.
Prepared Speaker – we usually have two members who give a prepared speech in each meeting. Members use a Toastmasters project manual so they have specific objectives to improve how they communicate. The member always picks their own topic and expresses their own point of view. Toastmasters projects start with very basic things such as just standing up in front of the group and progress through every skill involved in writing and delivering a speech. There are numerous advanced manuals that focus on every possible aspect of communications.
Speech Evaluator – we assign a speech evaluator for every prepared speech. This provides the member with specific feedback on what they are doing well so they can build on their strengths and suggestions for improvement that are appropriate for their level. Toastmasters teaches people how to give effective feedback that will be positively received so this is another communication skill you learn.
Ahh Counter / Grammarian – this role involves counting when members use vocal bridges such as ah, um, uh huh, so, and you know. By becoming aware we are using vocal bridges, we cut down on them dramatically. The grammarian gives us feedback on our use of words and grammar.
Time Keeper – the only way a Toastmaster club can do all we do in 90 minutes is by timing everything we do. The time keeper operates a light system that lets speakers know when they are getting close to the time limit for their speech and when they need to wrap it up. Staying within a time limit helps speakers learn how much (or little) they can actually say in a given amount of time. When we are asked to say something in a meeting or give a speech, we can't just ramble on because then we would lose our audience.
Vote Counter – we vote for the best speaker, table topics speaker and speech evaluator at each meeting. This is one of the many ways we recognize our members and emphasize examples of doing things well. The vote counter counts the votes and gives the results to the Toastmaster to handle out ribbons near the end of the meeting.
Pledge / Inspiration Thought / Joke – at the beginning of every meeting a member leads the club in the Pledge of Allegiance, shares an inspiration thought and tells a joke.